MSI GTX 1660TI VENTUS XS 6GB GDDR6
PREMIUM DESIGN
With a new  dual fan design , VENTUS proudly displays its industrial shapes in neutral colors to fit any construction.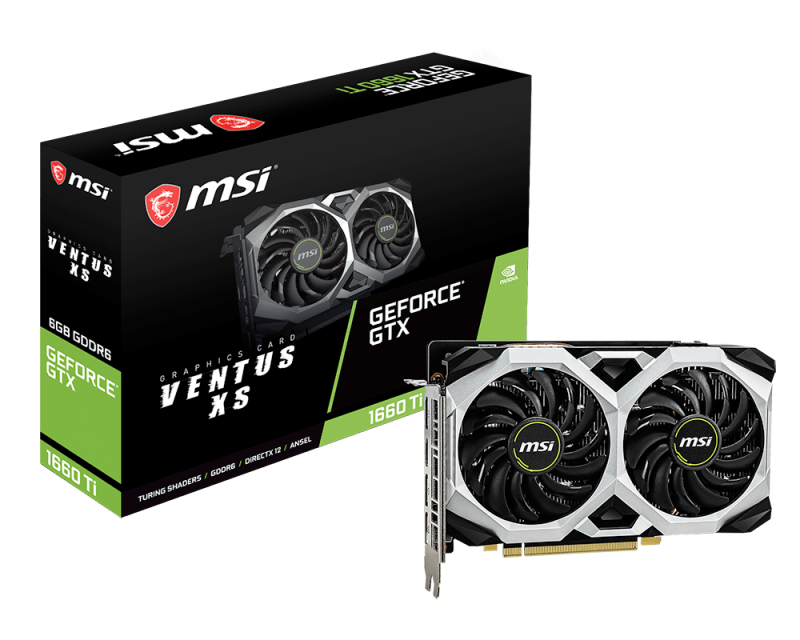 TORX FAN 2.0
A  new version of the iconic MSI TORX fan  further pushes the limits of thermal performance. New clearly visible trims on the traditional fan blade create a focused airflow that is in turn pushed downward by the dispersing fan blades to increase static pressure.
Dispersion fan  blade : It has a steeper curved blade that accelerates air flow, increasing its efficiency.
Traditional fan blade:  Draws air down for greater heat dispersion.
THE FUTURE OF GAMING
The smoothest, fastest and most exciting gaming experience by eliminating flicker and input lag.
4K UHD:  The  ultra-high resolution (UHD)  offers 4 times the resolution of 1080p content, allowing much sharper images with details dedicated during games.
OC SCANNER
The latest version of MSI Afterburner for the GTX 16 series is ready. The OC scanner is an automated function that finds the best overclock settings for your graphics card. Providing a performance boost and more FPS.
MSI APP PLAYER
Developed under an exclusive partnership with BlueStacks, the MSI APP Player offers a seamless gaming experience between mobile gaming and the PC platform , and takes advantage of custom features like keyboard-specific lighting and better graphics with multi-tasking jobs.